Jim Sidanius Early Career Award
In July, 2020, the ISPP Governing Council decided to rename the Erik Erikson Early Career Award to honor Prof. Jim Sidanius. Dr. Sidanius was an early member and consistent contributor and promoter of ISPP, and encouraged generations of his students and collaborators to join ISPP. Dr. Sidanius has spent his career making enormous contributions to the fields of political and social psychology, African American studies, sociology, and political science. He is known especially for his work with Felicia Pratto on Social Dominance Theory, which is considered by many to be the most influential idea for understanding the origins and persistence of ethnic conflict in human systems around the world and over time. Dr. Sidanius has trained dozens of political psychologists, and his work to develop their careers makes renaming the early career in his honor award quite fitting.
The Early Career Award has been given since 1982. The Award recognizes and celebrates exceptional achievement and is awarded to an individual who is a member of ISPP and within a decade of receiving their Ph.D. The list of recipients of the Early Career Award is a compendium of those who are among the most prominent leaders in political psychology today.
---
How to Nominate:
Nominees must be current ISPP members and within 10 years of having received their PhD. All nominations must include the following: An argument as to why he/she deserves the award and a CV of the nominee. To complete a nomination, simply send these materials to the Committee Chair by the deadline.
The award recipient will be strongly encouraged to attend the Annual Meeting and Awards Reception.
---
2022 Award Committee:
TBD The nomination process for 2022 is not yet open. Please send submissions to the Chair. The deadline for nominations is 15 January 2022.

Winners will be notified by early March 2022.
---
Current Winners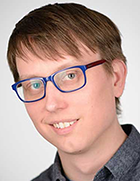 Jim Sidanius Early Career Award
Mark Brandt, Michigan State University, USA
Dr. Mark Brandt has been an amazingly productive scholar in the eight years since earning his Ph.D. His work is methodologically flexible and adept and he is intellectually curious and productive, becoming a top political psychologist of his generation. His work has been consequential and is highly cited, and his interests and contributions have been broad and theoretically important. Dr. Brandt's most recent work on belief system networks tries to change how we study belief systems by focusing on the idea that belief systems are interconnections of attitudes and identities that can be modeled (e.g., with network analyses). His initial work on this idea has shown that political identities are central to belief systems, that belief systems can be replicable, and that conservatives' moral belief systems are more tightly integrated than liberals' moral belief systems. He has recently turned to simulations of individuals' belief systems to test whether his model of belief system networks can account for existing phenomena in the literature, with considerable success. In sum, he has offered impressive and "fresh" contributions to the advancement of studies in core areas of political psychology, such as the psychological roots of ideology, moral reasoning, and their relationships with intergroup conflict and prejudice.
Nour Kteily, Northwestern University, USA
Dr. Nour Kteily is immensely productive, and his elegant program of research in political psychology is theoretically ambitious, methodologically innovative, and topically important. He has an exceptional record of high impact publications. His research contributions on dehumanization and related processes and behaviors constitute an important advance in studies on interpersonal and intergroup perception, on conflicts deriving from them, and on conflict resolution. For example, he created a direct measure of blatant dehumanization, leveraging the "Ascent of Man" image, which begins with an ape-like figure and with each successive figure becoming more physically and culturally evolved. Using this scale cross-nationally, Dr. Kteily found that individuals reliably rated outgroup members as less human than their own group. For the field of intergroup relations, this was a watershed study because it challenged the prevailing view that people in contemporary societies are unwilling to express blatant dehumanization. Dr. Kteily then introduced a new concept: meta-dehumanization, which occurs when one believes that another group holds dehumanizing attitudes about one's group. He found that being perceived as less than human by an outgroup leads to reciprocal dehumanization, creating a vicious cycle.
Past Winners
2020 Joshua David Kertzer
2019 Pazit Ben-Nun Bloom and Ryan Enos
2018 Shose Kessi and Johanna Vollhardt
2017 Michael Bang Petersen
2016 Matt Levendusky and Martijn van Zomeren
2015 Christopher F. Karpowitz and Rune Slothuus
2014 Chris Sibley
2013 Daphna Canetti and Phillip Hammack
2012 Eran Halperin and Peter Hatemi
2011 Cindy Kam
2010 Jennifer Jerit and Tom Rudolph
2009 Not Awarded
2008 Linda Tropp
2007 Christopher Federico
2006 Jamie Druckman
2005 Nicholas Valentino
2004 John Jost and Howard Lavine
2003 Mark Schafer
2002 Thomas Nelson and Tali Mendelberg
2001 Barbara Farnham
2000 Rose McDermott
1999 Wendy Rahn
1998 Not Awarded
1997 Paul t'Hart
1996 Yuen Foon Khong
1995 Jon A. Krosnick
1994 Kathleen M. McGraw
1993 Ofer Feldman
1992 Peter Carnevale
1991 Deborah Larson
1990 Ruth Linn
1989 Shawn W. Rosenberg
1988 Steven Kull
1987 Philip E. Tetlock
1986 Virginia Sapiro
1985 James S. Fishkin
1984 Andrew B. Schmookler
1983 Michael G. Billig
1982 Gerda Lederer